Personalized Hershey Kiss Stickers for Your Special Occasion!


CONTACT
PRICES
FAQ
LINKS
Customer Comments

If nothing appeals to you on these pages, let us know your occasion Toll-Free
and what type of graphic--we will be happy to create it just for you! In New Jersey please call

(800) 945-5522
(973) 728-7040
---
We strive to make each and every customer happy by giving great customer service and a wonderful product that is delivered as quick as possible. Thank you to all our customers who have let us know how happy they are!

We will be going over old email and adding additional customer comments to this page very soon.
(Pictures shown are the 'proofs' from their orders. Proofs are only screen shots to show the general layout.
They are enlarged for clarity.)


Thank you for your quick response. It is for my mom's 90th birthday and it looks really cute. My niece bought some labels from another sight and yours are by far much nicer. Go ahead with my order.
Thank you, Sonia R.
This looks fantastic!
Go ahead and print! :)
Thank you again for the "personalized" service. We can't wait to see the finished product!
Yours,
Jennifer
Yes! I like that much better, looks great! thank you so much! I appreciate you being able to change it and replying to me! That speaks very highly of you and your company! Thanks again!
Received the stickers yesterday....they look great....Thanks!
Marie

HOME


CANDY BARS

Visit www.A1Wrappers.com
for to see our
Personalized Candy Bars!
We can cooridinate to match with the kisses!
---
Whatever your occasion--Personalized Chocolate Kisses add sweetness!
Personalize HERSHEY KISSES(R) with our KISS-Stickers™!
Our round DOT stickers were designed for KISSES™, but can be used in a variety of ways... ..... .........[Order]



RDER INSTRUCTIONS
PLEASE READ CAREFULLY:

MAKE NOTE OF YOUR DESIGN NUMBER before beginning.
Click Here for Font Choices


Call about our
Wrappers for
Mini Hershey Bars
to coordinate
with Kiss Stickers

800-945-5522

REALLY want them all assembled? We'll do it for you!
HOME
FONT INFORMATION

Metallic Imprinting

also available!

Alyssa's Kisses is a division of Personalized by Design. Your credit card statement will read from WRAPPER WORKS or Personalized by Design

---
COMING SOON!!!! We are working on LARGE Kisses with Personalized Plumes.
Click here for more information
Prices
.75 " or 1" Round Please specify in Note Section of shopping cart which size you want.
If no note is made .75 (Kiss Sticker Size) will be sent.

Specify Personalization details in note section.

IGNORE shopping cart total. We will process your order manually
and will email you the actual total. Click here for our Cancellation Policy[Order]

300 (24 Free)
$17.95
400 (32 Free)
$19.95
500 (40 Free)
$22.95
600 (48 Free)
$25.90
700 (56 Free)
$28.90
800 (64 Free)
$31.85
900 (72 Free)
$34.85
1000 (80 Free)
$37.85
Each 100 after 1000
$2.00/hundred
New! Full color background
$1.00/hundred
($0.01 each)

*1" round do not get same quantity of free stickers--in some instances less
than the amount shown for the .75 round and in other cases, more.)

Shipping on all orders, (up to 2000 KISS STICKERS) is:
$5.00 via Priority Mail

Rush processing and shipping for orders that must be
shipped within 72 hours is: $22.85. This includes rush processing
and shipping via US Express (1-2 days, often including weekend days!).

Shipping Over 1000, price will be quoted based on quantity and zone.

Prices are based
on one design per quantity

As long as the TEXT remains the same, you may choose several graphics to split your order with.
There is a minimum of 100 per graphic and please add $3.00 per graphic (first one is included)

When text changes,
regular pricing is charged
per quantity ordered.

---
STICKERS with HERSHEY'S KISSES
| | |
| --- | --- |
| 300 Minimum | $0.20 each |
| Available in SILVER Foil - Plain Kisses only | |
| Each 100 after 1000 | $18.00/hundred |
| Full color background | $1.00/hundred |
With Chocolate, Shipping starts $9.95
Based on Quantity, Zone and Temperature.
Summer Months ADD $10.00 for a cooler
Shipping will be added to your order. If shipping exceed $30.00 to your location, (INCLUDING COOL PACKING)
we will call or email you before finalizing your order.

---
HERSHEY(R) Miniature - Wrappers
Please call us to discuss Hershey Miniature options.

| | |
| --- | --- |
| 100-480 | $0.40 each |
| 500-980 | $0.38 each |
| 1000-3980 | $0.34 each |
| 4000-4980 | $0.30 each |
| 5000+ | $0.27 each |
| Each 100 after 5000 | $15.00/hundred |
| New! Full color background | $5.00/hundred |

for wrappers with Assorted Miniatures, add $0.18 to the prices above

Shipping on all sticker only orders, (up to 2000 KISSkers/1000 minis)
is: $5.00 via Priority Mail or $17.85 US Express (1-2 days, often including weekend days!)
Shipping Over 1000, price will be quoted based on quantity and zone.

Click Here for notes on shipping outside of the United States

Shipping on orders with chocolate, price to be quoted--typically up to 300 pcs $9.85 - $13.85.
---
Frequently Asked Questions
Can you personalize that little thing that sticks out of the kisses?
Hershey calls that little tab, the plume. Unfortunately, we cannot personalized that.
We are working on a LARGE chocolate (2oz.) that we may be able to personalize! Click here for more information and a picture.
How much information can I print on the KISSkers?
Well, they are only .75" in diameter, so there isn't a tremendous amount of room. Just enough to be cute and to the point for the occasion!
Do you know where I can also get personalized chocolate bar favors to match?
Yes! Please visit our main page at www.personalizedbydesign.com
What is your cancellation policy?
Once we receive your order and begin work, we do charge your card. (Because of a number of people who have entered invalid or declined cards, we must
verify the card is valid before starting to design your proof.) If we have not provided you with a proof and have
not printed and/or shipped the stickers--we can cancel the order at no charge.
Once we have sent you a proof, or begin work on your order, there is a $8.00 cancellation fee.
If we have printed or mailed your order we cannot cancel the order.
If we have not shipped, we can refund for shipping if you do not want the stickers shipped to you.

Can these dots be used for New Babies?
There is not much room to put all the birth information, but we can certainly put baby's name and date of birth along with a baby graphic.
Can these dots be used for ...?
What ever you want...! They are great for personalizing anything and everything! They come in sizes .75" and 1" round. Ask about other sizes too!
How will my personalized KISS Stickers arrive?
Stickers are sent via Priority Mail which will be delivered 2-3 days after your order ships.
You should receive your order within 7-10 days. If you need them sooner, please let us know when you need them by and we will accommodate you if we can.
Orders that must ship less than 72 hours are charged may be subject to $24.85, which includes Rush processing AND US Express 1-2 business
day delivery. (Rush fee and shipping amount will be higher for orders WITH chocolate)
Will you give a refund on orders that are not received on time?
If we did not get the order out on time, then yes, we will accept return and give you a full refund. For RUSH orders that were shipped in the time we scheduled
with you, we will refund shipping costs only - if the carrier does not fulfill their delivery guarantee without just cause.
US Priority mail does not offer guarantee, so we cannot refund shipping for orders shipped via Priority mail.
Rush order fees will not be refunded for orders that were shipped on time.
If the package does not arrive on time, PLEASE DO NOT REFUSE THE PACKAGE FROM UPS.
UPS CHARGES THE SAME RATE FOR RETURNING A PACKAGE AND YOU WILL BE CHARGED THIS AMOUNT IF YOU REFUSE THE PACKAGE
(or are not available to accept the package and they are not able to deliver it). Your order constitutes agreement of all terms on this website.
We cannot be responsible, and there can be no refunds if delivery is delayed due to incorrect or incomplete addresses (including Suite, Floor or Apartment number)
Additionally, UPS charges a $10.00 address correction fee when an address change must be made. This charge will be invoiced and charged to you.
How come every sticker is not perfectly centered?
Unfortunately, not every sticker lines up perfectly centered. Though some are off centered, they still look great!

Do I have to use these only for Hershey Kisses?
No! Use them for a variety of things! Envelope seals, calendar stickers, on items that are sent to day care, on lunch bags, lollipops, etc. Ask about our other sizes too!
Do you ship out of the USA?
Yes, we can ship STICKERS ONLY. Sorry, no candy.
Shipping must be calculated based on your location. Shipping is typically $14.85 - $25.85 based on the country.
Transit time 6-10 days. However, there is NO guarantee on time unless we ship with an expedited method. Email us for a quote. Be sure to include your exact shipping address.
We do purchase a 'Certificate of Mailing' which shows we have shipped the package to your address.
Unfortunately, because we have no control over the delivery once it leave our office we cannot be responsible if it is not delivered and we cannot issue a refund or replacements.
Ordering for delivery out of USA is at your own risk. However, we have only had one instance where the wrappers never showed up in over 10 years of business!
CUSTOMS FEES: We have no way of knowing whether or not the package will be charged taxes or addition customs fees. Any charges are not included
in the total and will be your responsibilty to pay.


Do you have LARGE Kisses?
Not yet, however we are working on an idea of 2 oz. (1.5" round bottom) chocolate with personalized tab
Tentative pricing:
$2.50 each, Personalized Plume (all the same design)
$2.75 each, Personalized Plume (all the same design) AND personalized bottom (all the same design)
$3.25 each, individually personalized plume (for individual guests name) and personalized bottom (all the same design)
If you are interested, PLEASE call or email us (wrapperfavors@aol.com) and let us know you would like more info!
The more interest, the sooner the project will come into fruition.
*NOT Hershey chocolate. Would be made with a high quality Milk Chocolate coating.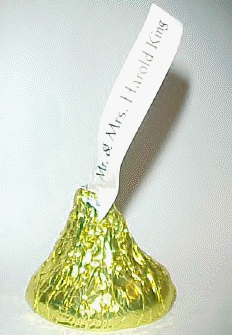 For personalized candy bars, visit www.PersonalizedbyDesign.com


---


Contact
We are very easy to contact. Call us toll-free at (800) 945-5522
Monday - Friday 9-4 pm Est.
Closed Saturday and Sunday (but we check email 7 days a week).
Summer/Warm Weather Hours: 10-3 Monday - Thursday
(May-October)

Reach us via email at: info@PersonalizedbyDesign.com

Send mail to us at: Personalized by Design
1141 Greenwood Lake Tpk
Ringwood, NJ 07456
---
Alyssa says, "Thanks for visiting!"
(C)Personalized by Design 2002 and beyond
Toll-Free Phone: (800) 945-5522
E-Mail Us


---
---